Shadow a Student Challenge: Carrie Anne Platt
The experience gained from shadowing a student can be tremendously helpful in understanding who today's students are and what challenges they face. For research, creative activity, and outreach, faculty may take several days away from work to travel to conferences, performances, or workshops. Taking just one day away to see NDSU from the perspective of a student can provide the same opportunities for professional development as a teacher.
Dr. Carrie Anne Platt, associate dean of the College of Arts, Humanities, and Social Sciences, first brought the Shadow a Student Challenge to NDSU in 2018, when she shadowed three students from her college. Read about that experience here. This past fall was her second experience shadowing a student. This year, Platt was paired with Seth Brandl, a music education major.

Seth Brandl and his shadow Carrie Anne Platt.
If you are not familiar with the concept of shadowing a student, please read our first post titled, The Making of NDSU's Shadow a Student Challenge.
Understanding the Trade-offs
Her latest experience made plain some of the trade-offs students in certain majors make. Knowing these trade-offs is an important consideration for individuals who work with students.
Platt noted there are differences for performing arts students, like Brandl, in comparison to other arts, humanities, and social sciences students. Some of the extra considerations that come with their studies include:
Evening rehearsals, which mean very long days on campus.
The need to practice singing or playing an instrument in addition to homework. Again, the best place to practice is usually the Music Education Building.
Missing out on many social aspects of college because, by the time these students finish rehearsing, campus events are over and students are back in their dorm rooms.
"Knowing these trade-offs is an important consideration for individuals who work with students."
Stamina and Focus
One of the most important things Platt learned from her recent student shadow experience is that performance-based degrees require a lot of physical stamina and mental focus. Every participant in the Shadow a Student Challenge was provided with lunch so the pair would have time for sustained conversation. But Brandl had class during lunchtime, so they had to meet for breakfast instead. Platt was impressed by the fact that Brandl could go without eating from 10 a.m. to 3 p.m. and still be able to perform at the level he does.
"…performance-based degrees require a lot of physical stamina and mental focus."
Brandl happened to have a piano midterm that day, highlighting another challenge unique to performing arts students. Not only was Brandl under pressure to perform well for his grade, but he had to do so in front of everyone in the class, who would hear any mistakes he might make. Brandl could have asked his shadower to sit out during this midterm, but the fact that he did not was a testament to his focus and professionalism. Platt recalls feeling extremely nervous for him during the midterm and relieved when he did well. To Brandl, it was just another day in Performing Arts.
Sense of Community
One of the best parts of being a music or music education student is the strong sense of community in the Challey School of Music. Platt experienced this welcoming spirit firsthand when she attended a Concert Choir rehearsal for Handel's Messiah during her shadow appearance. After walking into the room with Brandl, Platt was asked if she wanted to sing with the choir. Having minored in music and theatre arts as an undergraduate, she was thrilled to have this opportunity, although she made sure to sing softly so she would not disturb the other performers. Singing with such a talented group was one of the highlights of Platt's day as a student.
After this year's Shadow a Student Challenge, Platt heard from many faculty and staff who were interested in shadowing a student in their college or program. If you would like to be involved in a future Shadow a Student Challenge, you can contact her here. There are both full-day and partial-day shadow options available.
Also, let us know in the comments below if you have any questions for Dr. Carrie Anne Platt regarding the Shadow a Student Challenge.
Read the experiences of other participants:
---
About the Author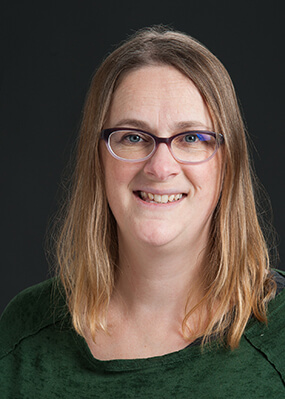 Connie Jadrny, is the marketing and public relations coordinator for the North Dakota State University (NDSU) Office of Teaching and Learning.
In more than 14 years at NDSU, Jadrny has learned a lot about higher education. She curates this blog to allow all individuals to continue learning about higher education and best practices in teaching.
Let's learn together!