Topics Map > Services > Teaching, Learning and Classrooms

Topics Map > Services > Training and Workshops

Videos with Audios in PowerPoint Quickstart
A quickstart guide for how to make a music video in PowerPoint
1. Get the Design
Select: Design → pick a theme.


OR
Create your own: Design → Format Background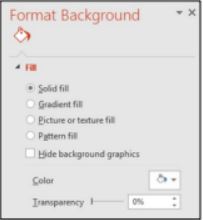 For applying the desired background to all slides: Format Background → Apply to all
2. Get the Visuals: Text
Select: Insert → Text Box
Drag to draw the text box.
Type desired text.
For changing the background of any text box or shape : Right-Click on the object → Format Shape

Be Aware of Copyright!
Follow fair use guidelines
Consider asking permission
Cite all media
2.1 Get the Visuals: Images
Select: Insert → Pictures OR Insert → Shapes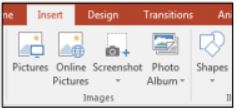 For modifying images : Use the picture tool bar → Click on the image → Format


To avoid stretching images and shapes → Hold SHIFT key while resizing
2.2 Get the Visuals: Videos
Select: Insert → Video → Video on My PC

Click on the video → PLAYBACK
Set the video on Start Automatically


3. Get the Music
(Ensure compliance with copyright)

For inserting your audio on desired slide: Insert → Audio → Audio on My PC


Select: Play in Background under Playback


Audacity is useful a free, user-friendly, audio editor for recording your voice and mixing audios. Download at https://sourceforge.net/
4. Get the Motion: Animation
Select the object to be animated:
Select: Animations tab
Apply desired animation
Customize with Effect Options
For adding multiple animations → Add Animations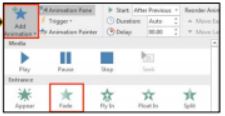 4.1 Get the Motion: Transition/ Timings
Select: Transitions → choose a transition style
For having the same transition for all the slides: Click on Apply to All (* You can different transitions to individual slides as well)


For record your own timings: Slide Show → Rehearse Timings


5. Get the Motion: Transition/ Timings
Select: File → Export 1. Select: Create a Video 2. Click the Create Video to save your slide as a MP4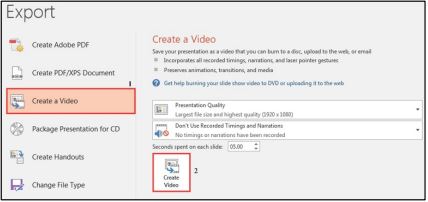 See Also: