Topics Map > Services > Research and Education Networks > Northern Tier Network North Dakota

Northern Tier Network North Dakota - FY21 Financial Report
Below is an overview of the NTN-ND's financial report for FY21.
FY21 Financial Report
The state level NTN-ND research and education network budget for FY21 was supported through remaining funds previously state appropriated and designated for annual operations and management. Annually, a portion of funding was set aside for depreciation and capital refresh and replacement requirements. Annual revenue was realized through reimbursements for services extended by NTN-ND to the state of South Dakota and the Pacific Northwest GigaPop.
For FY22, current available funds will cover annual operations and maintenance, along with one-time expenses generated by for the regional NTN upgrade project where overall project costs will be shared with partners in BOREAS-Net and the University of Minnesota, and the South Dakota Board of Regents. These existing NTN-ND funds are anticipated to sufficiently cover any remaining project upgrade costs and newly adjusted annual operations and maintenance through FY23. Beginning in FY24, barring any further support from state appropriations or reimbursement by other NDUS institutions, full responsibility for all expenses will be borne by the University of North Dakota and North Dakota State University. As the sponsoring institutions responsible for operations and management of this network in North Dakota, the budget supported by UND and NDSU also provides access to Internet2 and the global community of research and education resources enabled via these networks. Additional institutions benefiting from this access include the North Dakota University System and the remaining nine universities and colleges, the five Tribal Colleges and Universities in North Dakota, and North Dakota's K-12 public schools. To date, no annual fees have been charged by UND and NDSU to assist in covering the cost of this access.
The FY21 report reflects a starting balance of $214,427 with total expenditures of $541,574. Reserved funds designated for Capital refresh and replacement and reimbursements totaling $265,000 were made available to support annual operating expenses. Reimbursements in the amount of $107,883 were received from the state of South Dakota for their portion of annual network and NOC expenses, and from the Pacific Northwest Gigapop (PNWGP) for their portion of annual network, telecommunications and hardware expenses. In anticipation of work necessary for network upgrade activities, fiber circuits in the Fargo metro area were also upgraded to provide additional capacity in connectivity between NTN-ND and for peering with circuits to Minnesota and South Dakota. NTN-ND funds remaining on balance at the end of FY21 will be used to cover expenses going forward into FY22.
Annual expenses of NTN-ND are incurred across five categories: equipment, fiber, network operations center, Internet2 and NTNC dues, and other operating. Funds expended on upgrade activities are identified in a separate category beginning with the FY20 financial report going forward. Funds for depreciation and capital refresh and replacement typically transferred at the end of each fiscal year have not been deducted since FY17 due to statewide budget cuts and subsequent termination of state and University System funding support. As the NTN-ND partners, UND and NDSU continue to use existing account funds to support annual operations and maintenance.
NTN-ND Annual Expenditures Occur in Six Main Categories:
Equipment: Cost related to equipment acquisition and maintenance fees.
Fiber: Operations and maintenance fees on fiber, and rack and power required to house equipment in space provided by the vendor.
Internet2/NTNC dues and participation fees: Annual Internet2 participation and connectivity fees, NTNC membership dues, sponsored participant fees and costs for Internet2 to accept and route traffic to and from NTN-ND. Internet2 membership dues and fees continue to change as the organizational structure for Internet2 and their member community evolves to address the needs of current research and academics.
Network Operations Center (NOC): Management of network equipment, including troubleshooting and response coordination for unplanned outages.
Other operations: Includes insurance, minor supplies, printing and shipping costs. Beginning in FY18, NTN-ND partners covered all of their own travel and per diem expenses relevant to R&E activities.
NTN Upgrade: Includes one-time expenses related to fiber, hardware, software, electrical, equipment and installation. These expenses will be categorized separately until the upgrade project is fully completed.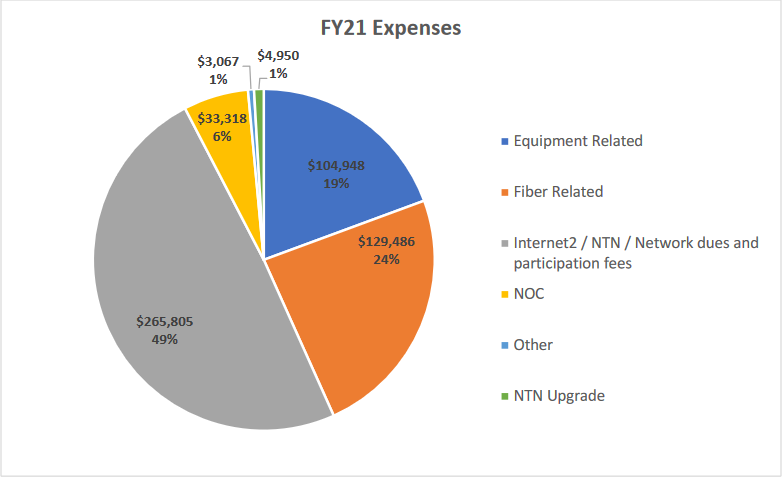 Notable changes since FY20

Most notable as NTN-ND ends FY21 is the expected deployment in FY22 of the network upgrade planned for a regional footprint encompassing North Dakota, South Dakota and Minnesota. Completion of this upgrade is anticipated to result in significant cost savings to NTN-ND in annual operations and maintenance and an increase to 100G capacity. Agreements between the regional partners were completed by the end of FY20 and project completion is anticipated by the end of FY22. The improvements for NTN-ND will mark a transition in operational status of the network, moving from a business model of owned assets to a model where the majority of daily operations is achieved through procurement of services from other entities.
Estimated Upgrade Project Costs
Project design and development that has been completed at the end of FY21 breaks down estimated project costs into the two categories of Capital investment, and Operational ongoing costs. Expenses in those categories are then split among the three project partners: University of Minnesota, South Dakota Board of Regents, and NTN-ND. The majority of the project is anticipated for completion during FY22.