Topics Map > Services > Teaching, Learning and Classrooms > Video/Media Options

Youtube Quickstart
A quickstart guide for YouTube
Your NDSU YouTube account is part of Google Apps for Education and is available to all students, faculty and staff at NDSU. The following steps will take you through how to upload the videos on YouTube.
Simply log into Google or YouTube using your NDSU email address (first.lastname@ndsu.edu) and password.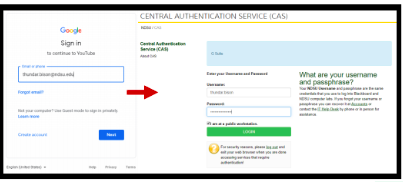 2. Now you will click on the add video Icon
to upload a video. Then you select the upload the video option from the menu.
3. The following window will appear, which will allow you to select the video that you want to upload.
4. After selecting a video, a window will appear where you can select a thumbnail, add description, add the intended audience and add the playlist where you want to keep it.
5. By clicking Next it will take you to another window which will ask what elements you want to add, i.e. do you want to add subtitles?
6. You will then be taken to a window where you will select the privacy/ visibility for the video.
Video Privacy Settings :
Private : Video can be seen only by users you choose.
Unlisted: Anyone with the video link can view.
Public: Anyone can see your video
7. When you are finished adjusting the settings, click on blue Publish button.
8. To view your videos, click on the icon in the upper right corner, and select "Your Channel" to access your videos.
See Also: