Topics Map > Services > Training and Workshops

Topics Map > Services > Teaching, Learning and Classrooms > Services for Students & Staff

Adobe Premiere Elements Quickstart
A quickstart guide for Adobe Premiere Elements
This document highlights common tools and tasks in Adobe Premiere Elements to help you get started. For additional assistance, please stop in to TLMC (QBB 150C).
Click on Expert view for full navigation
Import media (video, photos, audio, etc.) into your project.
Click and drag media from Project Assets into your time line.
The Timeline is your workspace where you edit and arrange your video assets.
Use the blue play head to view or apply changes to specific parts of the video.
User slider to Zoom in and out on your timeline.
To split a video clip, select clip, move play head to the desired location and click on scissors .
To Trim a clip, place cursor at beginning or end of your clip. When trimming cursor appears, click and drag to trim clip length.

Helpful Hints:
Create a folder to save all your projects assets (videos, images, etc.) and save your Premiere Elements project in the same folder.
Remember to save your project frequently.
How to Arrange Video Assets in the Timeline
The timeline from left to right is the sequence of your video from beginning to end.
Tracks are layers of videos. Higher tracks appear in front of lower tracks.

Note: Video 3 (flower) sits in front of video 2 (person on green screen) and video 1 (white background).
How to Use Title and Text
Click on Titles & Text
Click on top bar to select desired category of titles.
Choose the favorite type of title from the list.
Click on the title and drag it to the timeline.

Note: drop the title at a layer above your video.
How to Use Transitions
Open the Transitions menu at the bottom the screen.

Click and drag the selected transition to the desired assets in the timeline. (as shown in a picture below.)



How to Export the Final Video File
To export your file, click on Export and Share (in upper right corner).
Choose Devices
Choose your file Format (MP4 –H.264 is recommended)
Rename your file & specify your file destination. Press Save to export the file.
Press Save to export the file.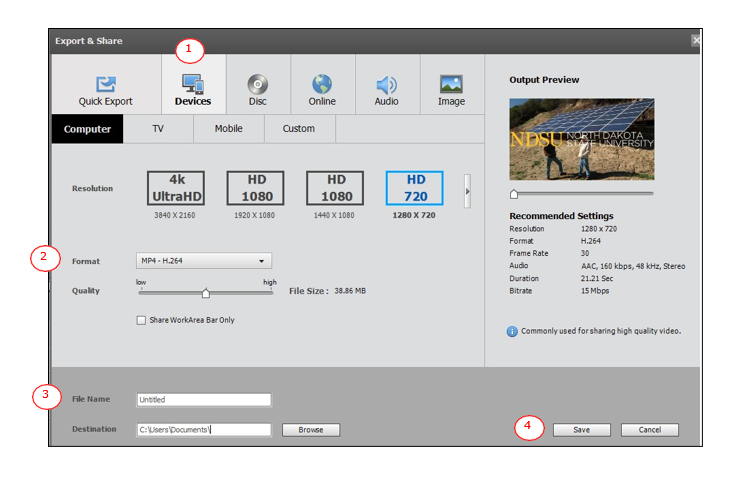 Note: Premiere Elements will select a resolution based on the resolution of your source video. If you are unsure of what you need, stick with the default settings.

See Also: