Topics Map > Services > Teaching, Learning and Classrooms > Productivity & Storage Options

PowerPoint Voice-overs Quickstart
A quickstart guide for how to do voice-overs in PowerPoint
1. Start Recording
In Normal view, select the slide that you want to start the recording on
Select: Slide Show > Record Slide Show > Start Recording From Beginning (or "from Current Slide" if resuming a recording).
Click on Start Recording button and begin presenting.
If you want to take a break in between you can click on the pause button.


To resume recording click "pause" again.
Click the "X" on the recording control or press Esc key on keyboard to end recording
2. Edit Recording
When you return to your PowerPoint presentation, you will see that each slide has a little audio icon

that represents the recording for that particular slide. Note: You can edit audio of each slide separately.
To re-record the audio on a single slide…
Select the audio icon on that particular slide, then hit the delete key to remove the audio.
Then start recording as per the instructions (1), but this time select "Start recording from Current Slide



When finished re-recording, click "x" or press Esc on your keyboard to end the recording.
3. Save your presentation as video
To Save as .mp4
Click on File tab
Click Save As
Select the location where you want to save
Give desired file name
In Save as type there is a dropdown that will allow you to select the file type.
Click and select MPEG-4 Video
When the progress bar completes, you will have an .mp4 video file of your presentation as well as the original PowerPoint project file.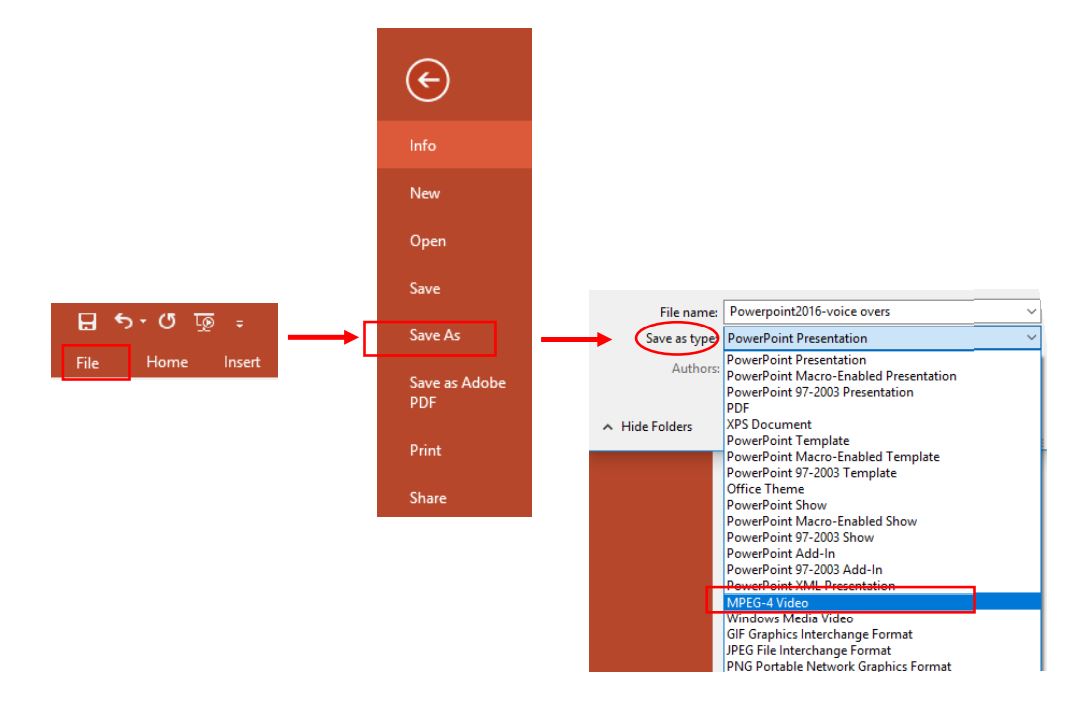 See Also: