Topics Map > Services > Teaching, Learning and Classrooms > Web Conferencing

Topics Map > Services > Teaching, Learning and Classrooms > Video/Media Options

Zoom Webinar
Zoom Video Webinars allow you to easily conduct large online events with video, audio and screen sharing for up to 500 attendees.
Webinar Scheduling
The features in Webinar are tailored for managing large audiences with branding, registration, host controls, polls, question & answer, raise hand, chat, recording, and reporting. Please click here for information on the difference between a Zoom Meeting and a Zoom Webinar

Those wishing to reserve a date and time for a NDSU Zoom Webinar should contact Wendy McCrory (wendy.mccrory@ndsu.edu) or Daniel Erichsen (daniel.erichsen@ndsu.edu). Please be ready to provide the following information:
Date and time of the webinar

Dates and times of any testing days you want scheduled

Names and email addresses of the NDSU users who should be assigned host status in the webinar (only assigned hosts will be able to start the webinar)

Names and email addresses of any panelists you want included in the reservation – they will receive an automatic email from Zoom with the needed connection information

Which webinar options are desired
Webinar Scheduling

Details

This section contains information for individuals who have a Zoom webinar license attached to their NDSU Zoom account. Webinar licenses can be purchased for a yearly fee, please contact Wendy McCrory (wendy.mccrory@ndsu.edu) for information on pricing and process.

Once you have a webinar license attached to your Zoom account, you can schedule webinars by going to https://ndsu.zoom.us and then selecting the Webinar link on the left hand side.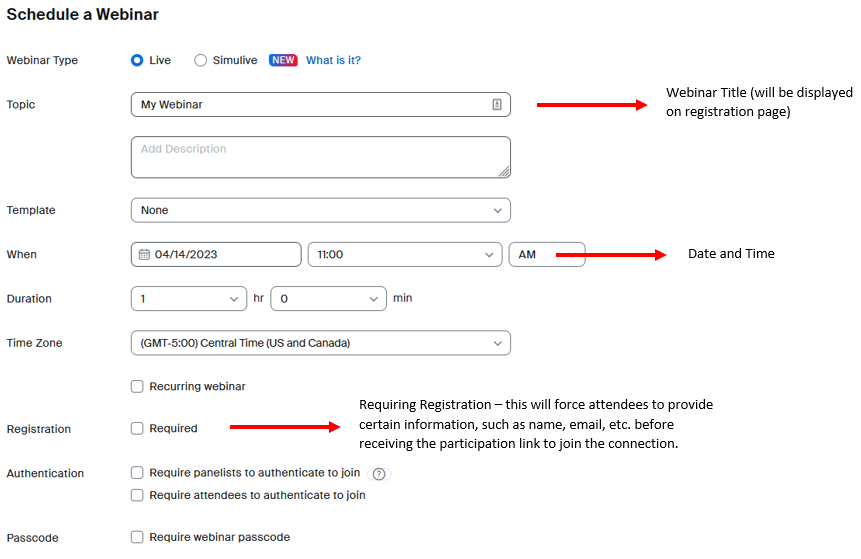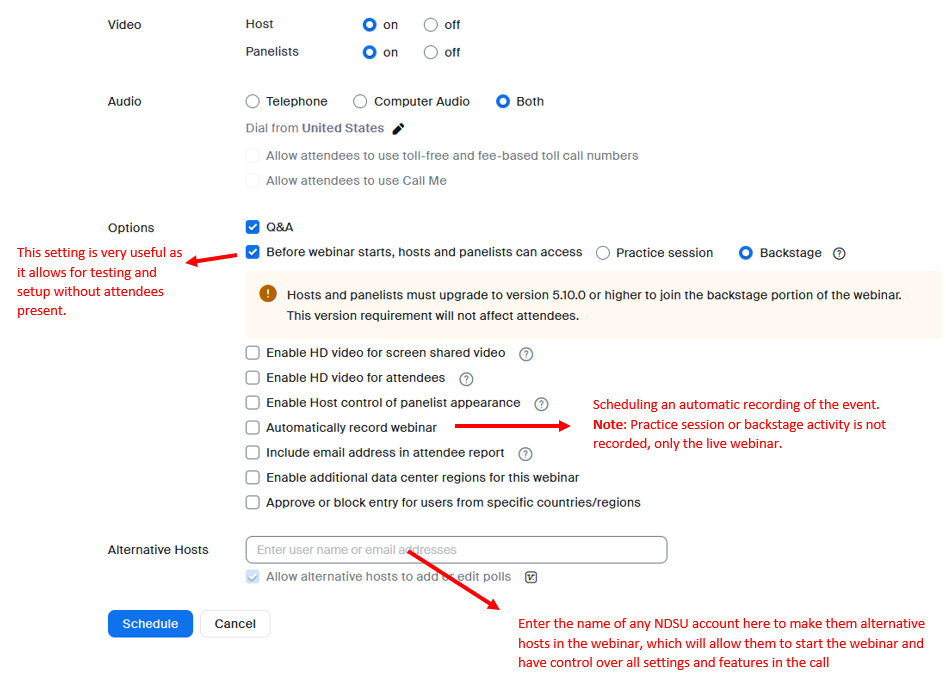 See Also